The fastest 3D sensors in the world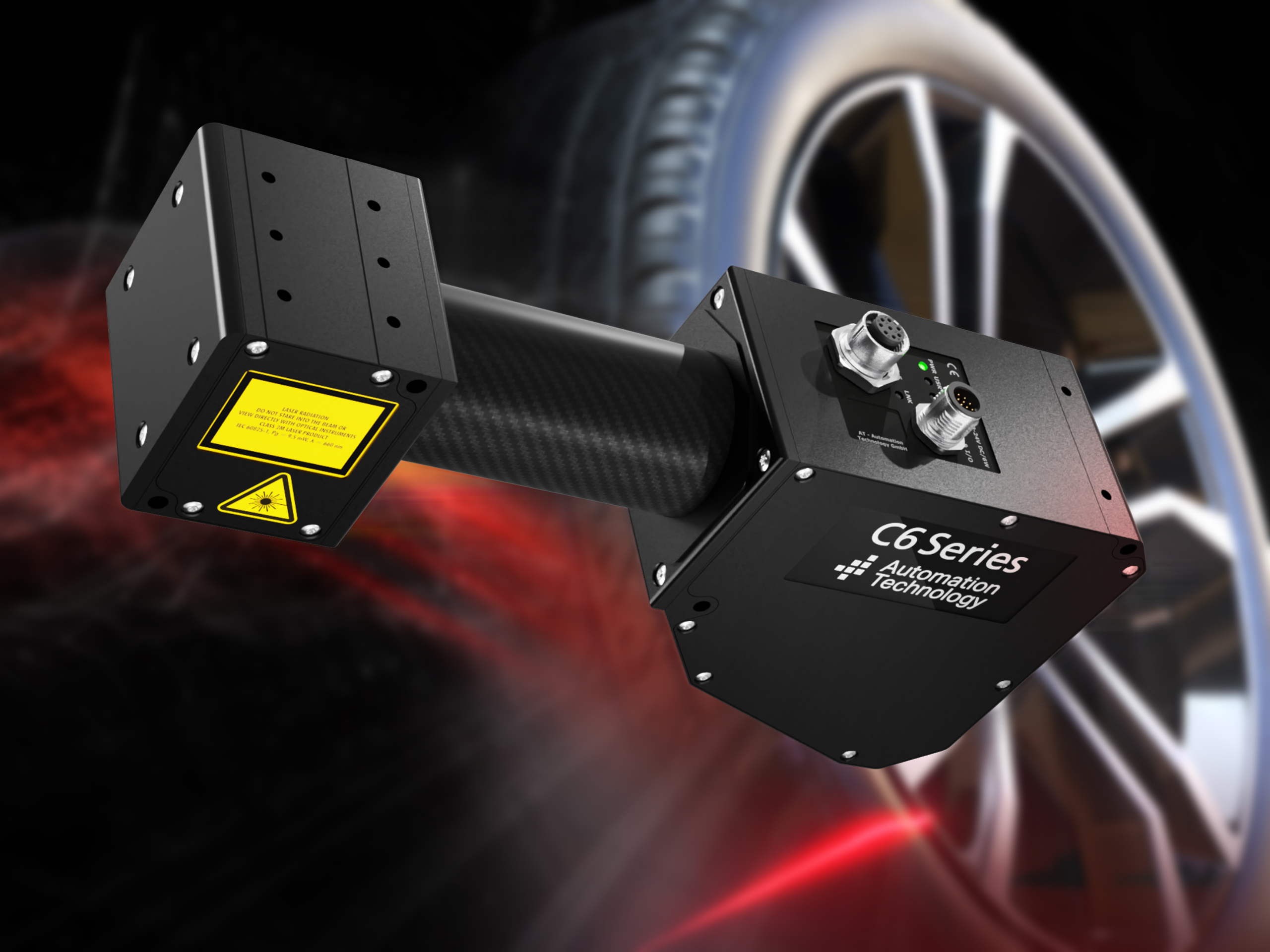 With our C6 series, we offer the fastest 3D sensors worldwide in terms of resolution and speed. The advantages include a specially developed sensor chip and WARP technology resulting in the world's fastest 3D profiling.
Latest industry standards GigE Vision / GenICam 3D

3D profile pixel rate of up to 128 megapixels at 29 gigapixels per second

Unique features such as MultiPart and MultiPeak
The
C6 series

of 3D sensors combines extreme speed with high-precision resolution

The new 3D C6 series by AT is built on a novel sensor platform that supports the latest industrial standard GigE Vision/GenICam 3D at 1 Gbit/s. These new laser profilers offer an impressive combination of extremely fast and highly precise resolution, reaching up to 4,096 points per profile, a profile speed of up to 200 kHz, and high dynamic range 3D image capture. They are available as compact sensors, MCS, and 3D cameras.
C6 3070
The best 3D sensor chip
Warp Speed
Galactical speed
The Widely Advanced Rapid Profiling (WARP) Technology by AT enables unprecedented profile speeds of up to 200 kHz to date.
On-Sensor Processing
Focus on relevant data transmission
Thanks to the self-developed sensor chip and revolutionary on-sensor chip processing, only the essential data is transmitted during a 3D scan. With this new technology, AT enables up to ten times higher measurement speeds.
MultiPart
Simultaneous output of multiple data sets
With the help of MultiPart, it is possible to output up to ten different data sets simultaneously, regardless of the pixel format or algorithm. In addition to height data, the customer receives additional data such as reflectance or scatter, which, in addition to an existing simple point cloud, for example, allows for a photorealistic representation of the test object.
MultiPeak
Disturbance-free scans of reflective materials
Thanks to MultiPeak, it is now possible to obtain distortion-free 3D profile data scans using laser triangulation. Highly reflective materials such as metal, plastic, or glass can be scanned without any interference from reflections. In cases where multiple laser reflections occur on the test surface, the MultiPeak feature helps distinguish them and output up to four profiles with peak data separately.
REGION SEARCH UND REGION TRACKING
Secure detection and classification of the laser line
With the help of AT's specially developed features, Region Search and Region Tracking, it is possible the reliably locate and determine the laser line as well as dynamically track and evaluate it as just one example of the wide range of capabilities our sensors have to offer. This enables a significant increase in scan speed while simultaneously utilizing the entire scanning height.
INTELLIGENT ALGORITHMS
Reliable definition of the laser line profile
AT has developed several intelligent algorithms that can output the 3D height profile of a measurement object. The algorithms determine the position of the laser line during the 3D scan, enabling the precise capture of the 3D profile.
Compact 3D Sensors
The C6 CS sensor is our standardized 3D sensor that can be easily used for numerous applications due to [with the utilization of] its wide range of features.
Wide selection of models available from an FOV (Field of View) of 7mm to 1300mm

Available in four different resolution variants (1280, 2040, 3070, 4090)

Available in different laser classes from EyeSafe to High-Power

Resolution in the Z-axis up to 0.2 µm
Modular 3D Sensors
The MCS series is our C6 3D compact sensor as a modular system, which you can order without the burden of a minimum order requirement. This allows us to customize each sensor individually.
Freely configurable components

All the advantages of the C6 3D sensor

Factory pre-assembled and configured Each MCS also available as a dual-head version

No extra costs for custom sensor production
Surface Inspection
Detection of defects and material flaws.
Object Measurement
Calculation of size, shape, and volume.
Position Recognition
Determining the object's position in production lines.
Choose the appropriate model
Our product families form the basis for countless variations of the sensor.
| wdt_ID | Model | Part Number | Working Distance | FOV | Z-Range | Resolution X | Resolution Z | Laser wavelength | Laser class | Request |
| --- | --- | --- | --- | --- | --- | --- | --- | --- | --- | --- |
| 1 | C6-2040-CS-38-106-S-1G | 202.209.053 | 106 | 38 | 30 | 19 | 1 | 405 | 2M | |
| 2 | C6-2040-CS-38-106-S-1G | 202.209.054 | 106 | 38 | 30 | 19 | 1 | 405 | 3R | |
| 3 | C6-2040-CS-38-106-S-1G | 202.209.055 | 106 | 38 | 30 | 19 | 1 | 405 | 3B | |
| 4 | C6-2040-CS-38-106-S-1G | 202.209.056 | 106 | 38 | 30 | 19 | 1 | 660 | 2M | |
| 5 | C6-2040-CS-38-106-S-1G | 202.209.057 | 106 | 38 | 30 | 19 | 1 | 660 | 3R | |
| 6 | C6-2040-CS-38-106-S-1G | 202.209.058 | 106 | 38 | 30 | 19 | 1 | 660 | 3B | |
| 7 | C6-2040-CS-63-106-S-1G | 202.209.047 | 106 | 63 | 40 | 31 | 1 | 405 | 2M | |
| 8 | C6-2040-CS-63-106-S-1G | 202.209.048 | 106 | 63 | 40 | 31 | 1 | 405 | 3R | |
| 9 | C6-2040-CS-63-106-S-1G | 202.209.049 | 106 | 63 | 40 | 31 | 1 | 405 | 3B | |
| 10 | C6-2040-CS-63-106-S-1G | 202.209.050 | 106 | 63 | 40 | 31 | 1 | 660 | 2M | |
| | | | Working Distance | FOV | Z-Range | Resolution X | Resolution Z | Laser wavelength | Laser class | |